The Earhart-Edison Exploration Academy at NHMS
Contact: Kimberley.Nash@hallco.org
---
Applications are closed for the 2019-2020 school year.
Details regarding parent information meetings and applications for rising 6th graders in the 2020-2021 school year will be posted here in late fall 2019.
Contact Kimberley.Nash@hallco.org for questions
---
---
THANK YOU, ZF!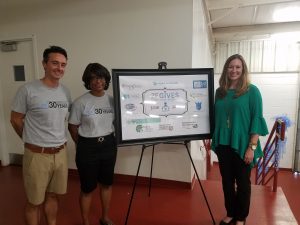 Mrs. Nash and Mr. DeVito recently applied for and were awarded a ZF STEM grant as part of the 30th Anniversary Celebration of ZF's Gainesville facility. We used the grant funds to purchase 12 new Sphero SPRK+ devices and accessories.
The Spheros will help us design competitions, activities, and lessons that challenge students to problem-solve through coding and engineering. If you have friends or family members who work for ZF, please let them know how much we appreciate them!